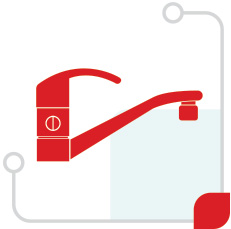 When you want a professional to properly care for your plumbing in Loveland, CO, contact the experts at Workman Plumbing Services. We offer a full line of professional plumbing skills for both residential and commercial settings.
Whether you need a minor repair or major renovations, our skills and experience are ready for the task. We'll have your systems up and running smoothly and efficiently in no time. Contact us today for a free estimate on one of our many plumbing services:
Drain cleaning/drain repair/drain replacement: Clogged drains are one of the most common plumbing issues, and over-the-counter drain cleaner doesn't always cut it. To ensure the problem is repaired properly, contact our experts for drain cleaning in Loveland, CO. We will clean, repair or replace your drain to restore your property to fully operational.

Plumbing: From leaky pipes to system updates, Workman Plumbing Services is your go-to plumber in Loveland, CO. No job is too big or small. We have the experience, skills and tools to get the job done right.
Plumbing fixture installation/plumbing fixture repair: Do you have a dripping faucet? Does your toilet never stop running? Would you like to update your fixtures? Our team is available to complete your installations and repairs with reliable, affordable service.
Water heater installation/water heater repair: You rely on your water heater every day. Eventually, this use takes its toll. When your water heater needs repairs, or when it's time to replace your unit, we will make the best recommendations for your needs. Our professional service will keep your hot water in good supply.
Workman Plumbing Services offers a full line of plumbing capabilities, at affordable rates. Contact our professional staff today to receive a free estimate for your next project. Reach us at 970-308-9796. We look forward to meeting all your plumbing needs.